What a bountiful few weeks this has been for the UD basketball program. An at-large bid after a very tumultuous season resulting in a matchup with THE Ohio State University in the first-round of the NCAA tournament, what Flyer fan could possibly ask for anything more?
The NCAA tournament, by and large, is a reward for subjectively good play during the season and the Flyers, and the Sweater Nation, should treat it as such. A loss to OSU doesn't diminish anything about this season. UD would never get the chance to play Ohio State at home or on a neutral court (although I do find Seth Davis' assertion that Thad Matta was somehow "ducking" Dayton completely unfounded and foolish), so this is a perfect opportunity to take a prized  interstate scalp.
All I know about Buckeye basketball is based on Twitter reactions, which, as you know, are usually even-keeled and well-intentioned. According to my feed this year, Ohio State is one of the worst teams to ever lace 'em up, so victory is all but assured.
Like most of you, I am really looking forward to tomorrow's clash with the Buckeyes, should be a real pip. I just wish it wasn't the first game of the day tomorrow. Anticipation is good for the soul.
Overview
Ohio State is representative of the Big Ten Conference as a whole — not quite as good as people expected. Thad Matta's club posted a 25-9 regular season record and went 10-8 in Big Ten play. OSU has a pair of impressive wins, against Wisconsin and Michigan State, and racked up an impressive thirteen wins against the RPI top 100. The Bucks, like their football counterparts, do scheduling right — a couple of non-conference games against stellar competition (North Dakota State, Maryland, Notre Dame, Delaware, Marquette) mixed in with a few (key word) sub-200 programs. Ohio State wasn't overly impressive but took care of business when they needed to and earned a six seed. That's tournament-building profile efficiency at its best.
The Buckeyes basically go about eight deep, are stingy defensively and are surprisingly not foul prone. OSU's defensive free-throw rate (stop rolling your eyes), which is the number of opponents' points scored from the free throw line per possessions used, is a mere .18. That's an insane rate for a team that employs the brand of defense the Buckeyes do.
Offensively, they could use some work. Michael Redd and Evan Turner aren't walking through that door. Regardless of their scoring deficiencies, there is no blowing out Ohio State this season — their defense keeps them in ball games no matter the opponent. Teams tend to pack their defense in against OSU, daring them to convert jumpers and three-pointers (the Bucks hit just 32.6% of their attempts from behind the arc this season).
Meet and Greet
Aaron Craft (9.6 ppg/4.7 apg/3.6 rpg/2.5 spg) is the rosy-cheeked white kid that is really, really safe to hate. It's almost encouraged at this point (although, I think it's actually cool to hate the Craft-haters at this point? Things change quickly these days). Say what you want about the perceived leniency most referees give him, but Craft is one of the best on-the-ball defenders I have ever seen. Although he certainly won't hurt you from the perimeter, Craft is very underrated when it comes to his ability to penetrate. And, he's so damn…crafty.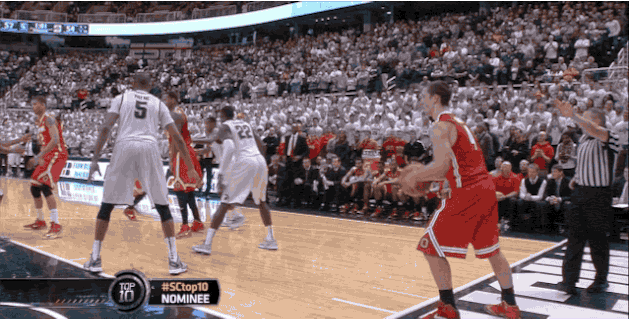 Guards Shannon Scott and Lenzelle Smith join Craft to form Ohio State's backcourt — that's right, yet another three-headed guard attack (where have all the big wings gone?). Shannon Scott had his best game of the season against Michigan in the Big Ten tournament, so he blew his wad and will be a non-factor against UD. Smith (or "Smiff") has some variety to his game, capable of hitting perimeter shots as well as going to the basket, and is a solid rebounder for his size.
LaQuinton Ross (15.4 ppg/6.1 rpg) seems like a hot-headed idiot to me, but he is also the Bucks top scorer this season. Ross' combination of size and athleticism is going to be an issue for UD's defense. Ross is a consistent performer, the Bucks' best three-point shooter and rebounder. Amir Williams 8.0 ppg/5.8 rpg) is OSU's man in the middle. The 6'11" junior is efficient on both ends of the floor and, more importantly, doesn't try to do things he is not capable of while on the court.
Sophomore guard Amedeo Della Valle is a non-factor against any team not named Nebraska, we need not worry about him. Sam Thompson can slam, jam and even dunk on occasion. He does a lot of this nasty-ass shit:
But I don't think I've ever seen him even attempt a jump-shot.
Marc Loving is the name of another Buckeye player. He will see some court time, we wish him well.
Numbers Game
Prediction
I really like the Flyers' chances against the Bucks. OSU struggles to "score the ball" and UD is good enough offensively to hang. Feel like this is going to be a tight one, Flyers win 71-69 as an Aaron Craft three-pointer caroms violently off the backboard at the buzzer.